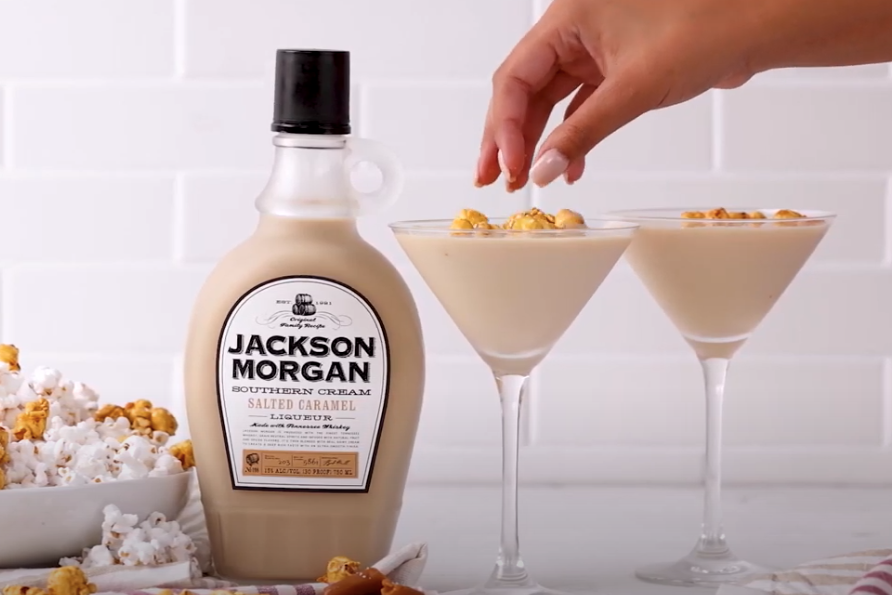 Perfect for movie night in with tu amor, this salted caramel popcorn martini will make date night in your living room cinema extra sweet. In the time it takes to choose between streaming your favorite flick or starting a new series, this movie night martini will be ready to serve.
Salted Caramel Popcorn Martini
Prep time: 10 minutes (plus chilling)
Cook time: 0 minutes
Ready in: 10 minutes
Serves: 1
Ingredients
For popcorn syrup
4 cups water
2 cups sugar
1/2 teaspoon salt
4 cups plain popcorn, popped
For martini
1 part popcorn syrup
1 part Jackson Morgan Southern Cream in Salted Caramel
2 parts vodka
Caramel popcorn (optional)
Directions
1. Make popcorn syrup by bringing water, sugar, and salt to a simmer over medium heat.
Remove from heat and stir in popcorn. Let mixture cool to room temperature. Strain
through a fine mesh strainer, pressing down on solids to extract as much liquid as
possible. Store popcorn syrup in an airtight container in the refrigerator until ready to use.
2. To make martini, fill a shaker with ice and add popcorn syrup, Salted Caramel liqueur, and vodka. Shake at least 30 seconds and strain into a glass. Garnish with caramel popcorn and serve immediately.