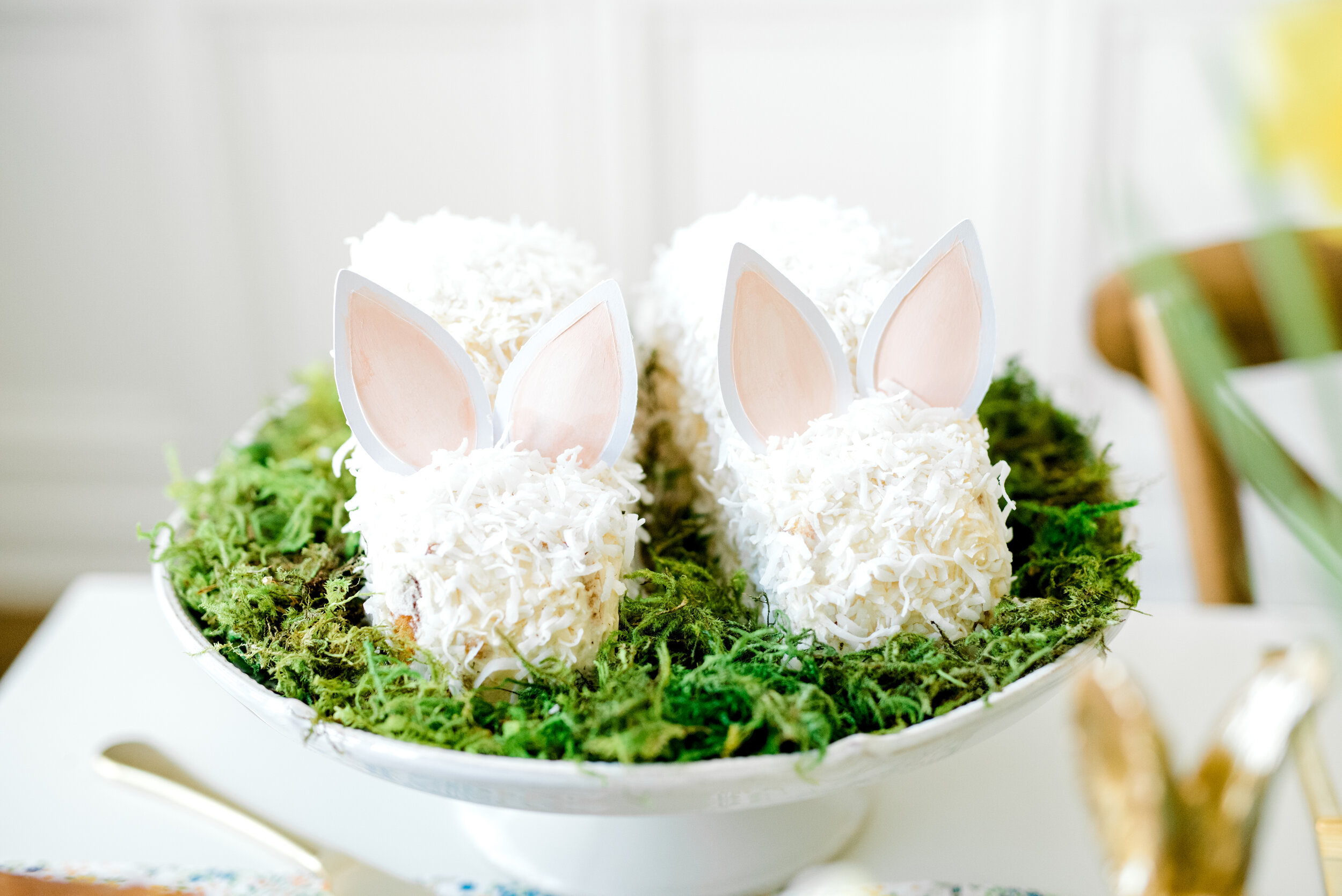 Whether you take the pastel plunge and play the happy hostess this holiday, or volunteer to deliver the decadent desserts to the group gathering, either way baking up these bunny cakes guarantees party-goers will be hopping with delight. Classic vanilla cake, covered in boozy salted caramel icing, topped with shredded coconut makes a sweet treat every bunny will enjoy.
Ingredients:
Cake
1 Box Vanilla Cake Mix
Bake according to directions, except substitute half the water for Jackson Morgan Southern Cream in Salted Caramel
Boozy Salted Caramel Icing
4 Ounces of Salted Caramel Sauce
½ Cup Butter, Softened to Room Temperature
1-2 Tablespoons Heavy Cream
1 Tablespoon Jackson Morgan Southern Cream in Salted Caramel
2-3 Cups Powdered Sugar
Shredded Coconut
Directions:
Preheat the oven according to the directions on the box and line two 8 inch round pans with parchment paper and spray with cooking spray. Mix together the vanilla cake mix according to directions on the box, substituting half the water for Jackson Morgan Southern Cream in salted caramel. Divide batter evenly between the two round pans and bake cakes according to directions on the box. Once finished baking, cool cakes on a wire rack.
While cakes are cooling, make the icing. In a stand mixer fitted with a flat beater, add the softened butter and 1 cup of powdered sugar. Mix on low speed, then add 1-2 tablespoons of heavy cream, Jackson Morgan, and the remaining powdered sugar 1 cup at a time. You may need to add more powdered sugar to thicken the icing or more heavy cream to thin it out. Once the consistency is to your preference, fold in the caramel sauce.
Form the bunny cakes, cover a small piece of cardboard (8 inches long by 2 inches wide) with white parchment paper as your base. Then cut the round cake in half and frost one side of the half-round cake and place the other side on top to form half of a circle. Frost the parchment covered cardboard and sit the cake up (where the small flat part of the cake is) to form the bunny's body. At this point, you should have what looks like a half circle cake standing up. Notch out a small piece of the cake to make the head (this is where the bunny ears will sit), use this cut out part of the cake for the tail of the bunny. Then frost the entire cake and cover with shredded coconut. Use construction paper to form the ears and place on the top of the bunny's head. I placed the finished cake on a cake stand with dried moss for presentation. Enjoy!