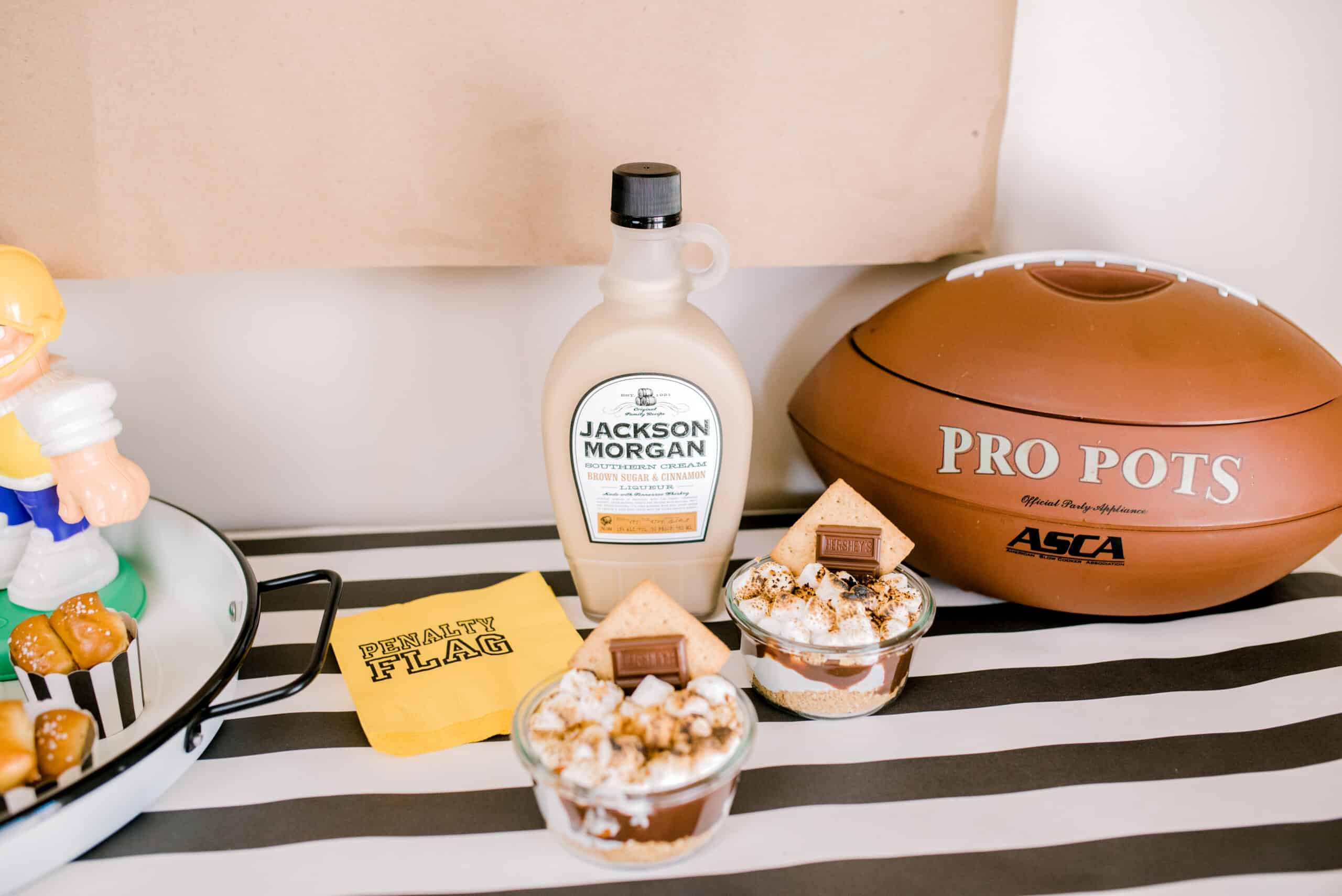 For a real Super Bowl treat that cannot be beat, whip up single serve S'mores. Layered with graham cracker crumbles, marshmallow fluff, boozy chocolate sauce, and mini marshmallows, this dessert could.. go.. all.. the.. way! – To the top of guest request lists for next season.
Ingredients: 
¼ Cup Jackson Morgan Southern Cream in Brown Sugar and Cinnamon 
¼ Cup Heavy Whipping Cream
2 (1.55 oz/each) Chocolate Bars, chopped. Save a piece for garnish
8 Graham Crackers 
4 Tablespoons Butter, melted
½ Cup Marshmallow Fluff 
Handful of Mini Marshmallows, garnish
Directions: 
In a small saucepan on low/medium heat, add Jackson Morgan Southern Cream and heavy whipping cream. Allow to warm for 1-2 minutes until bubbly. Remove the pan from the heat and add the chopped chocolate bars, stir until chocolate melts. Allow to cool. 
Make the graham cracker crust by crumbling 7 of the crackers and placing them in a plastic bag. Seal the bag and use a rolling pin to crush the crackers. Then mix the graham cracker crumbles with melted butter. Use the back of a spoon to press the mixture into the bottom of a jar. 
Layer the marshmallow fluff in the jar over the graham cracker crust, then top with boozy chocolate sauce. Garnish with mini marshmallows and a sprinkle of graham cracker crumble. Using a kitchen torch, roast the marshmallows for a few seconds. Then top with a whole graham cracker and chocolate piece, enjoy!