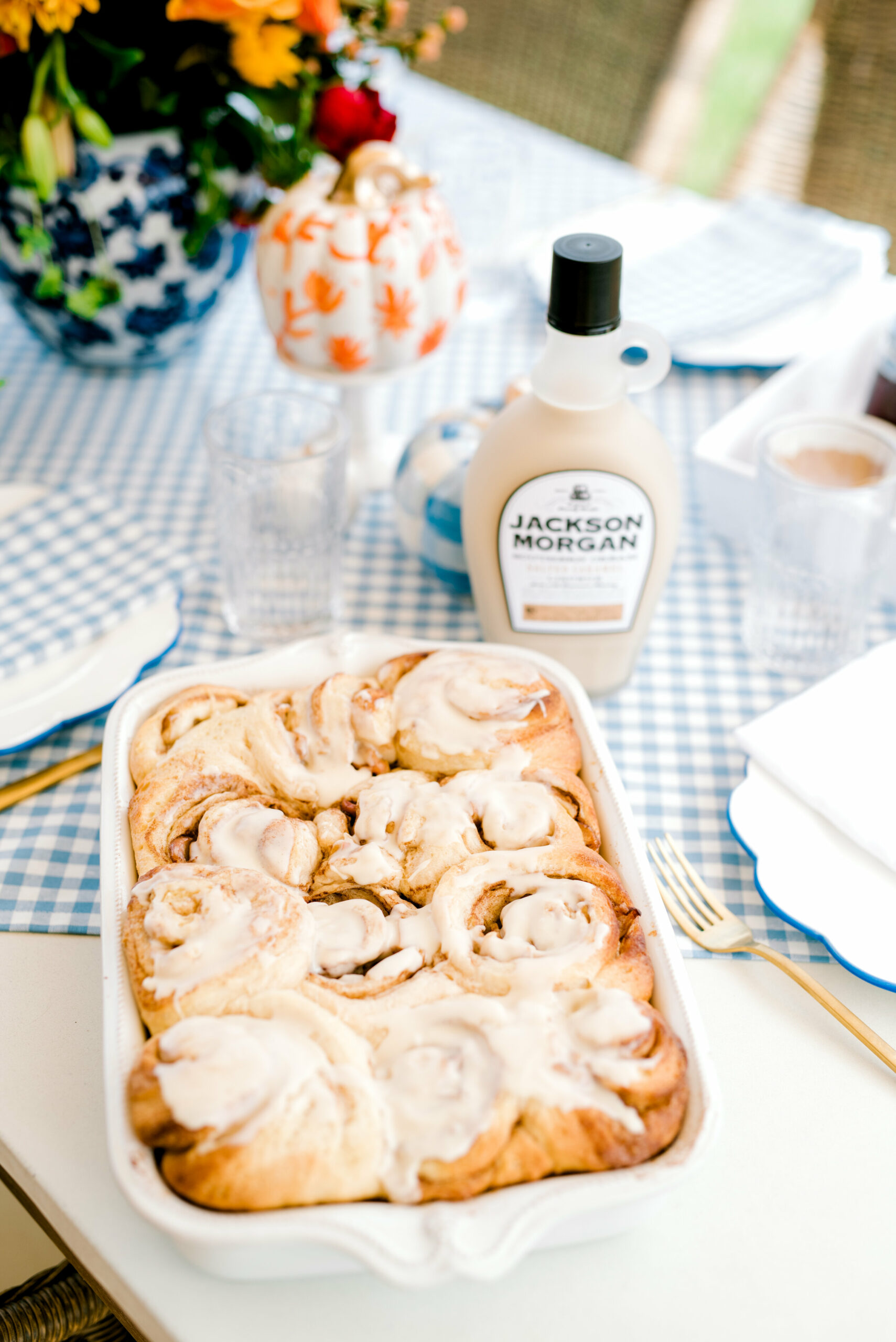 Bring home the fall festival flavor of caramel apples with this delicious recipe remix. Classic breakfast rolls get a brown sugar and cinnamon boozy brunch upgrade, plus they are extra tasty when topped with drizzles of icing spiked with Jackson Morgan Southern Cream in Salted Caramel. Prepare for friends and family to name a new fall favorite brunch recipe.
Ingredients:
▪ 1 Package Dry Active Yeast
▪ ½ Cup Warm Water
▪ ½ Cup Apple Cider
▪ ¼ Cup Granulated Sugar
▪ 1 Teaspoon Salt
▪ 1 Large Egg
▪ 1 ½ Teaspoon Vanilla Extract
▪ 2 Tablespoons Butter, softened
▪ 3 – 3 ½ All-Purpose Flour
Filling
▪ ¼ Cup Butter, softened
▪ 2 Apples, thinly sliced
▪ 1 Cup Brown Sugar
▪ 2 Tablespoons Ground Cinnamon
▪ 2 Tablespoons Jackson Morgan Southern Cream in Brown Sugar and Cinnamon
Icing
▪ 1 Cup Confectioners' Sugar
▪ 2-4 Tablespoons Jackson Morgan Southern Cream in Salted Caramel
Directions:
First, make the dough, mix the yeast in the warm water in the bottom of a stand mixing bowl fitted with a flat beater. Cover with a dishtowel and allow it to dissolve for 5 minutes. Next, add in the apple cider, sugar, salt, egg, vanilla, butter, and half of the flour. Mix on medium-low speed with a stand mixer until combined. Then add the rest of the flour until the dough springs back when touched. Next, switch the flat beater with a dough hook and beat for 4 minutes. Lightly flour a work surface, and mold dough into a ball and cover and let rise for 1-2 hours in a warm place until doubled in size. After rising, roll dough on a floured surface into a rectangle.
Then make the filling, in a small saucepan melt butter then add the apple slices and cook down for 20-30 minutes, allow to cool. While the apples are cooling, make the cinnamon-sugar mixture, mix the cinnamon and brown sugar together. Then, spread the room temperature butter on the rectangle shaped dough and sprinkle with half the cinnamon-sugar mixture. Top with the cooled apple slices then the remaining cinnamon-sugar mixture. Roll the dough up tightly and cut into 12-15 pieces. I used unflavored dental floss to cut the rolls evenly. Spray a 9×13 inch baking dish with cooking spray and arrange the cinnamon rolls in the pan so that they are touching. Cover and allow to rise for an hour in a warm place.
After rising, bake at 375 degrees for 25-30 minutes. Keep an eye on your rolls, if they start to brown cover with foil.
Finally, make the icing. Mix together the confectioner's sugar with Jackson Morgan Southern Cream in salted caramel until the right icing consistency is achieved. You may need to add more sugar or Jackson Morgan if the icing is too thick or thin. Ice the cinnamon rolls and serve warm. Enjoy!
All images Julie Hall Photography for Jackson Morgan Southern Cream.