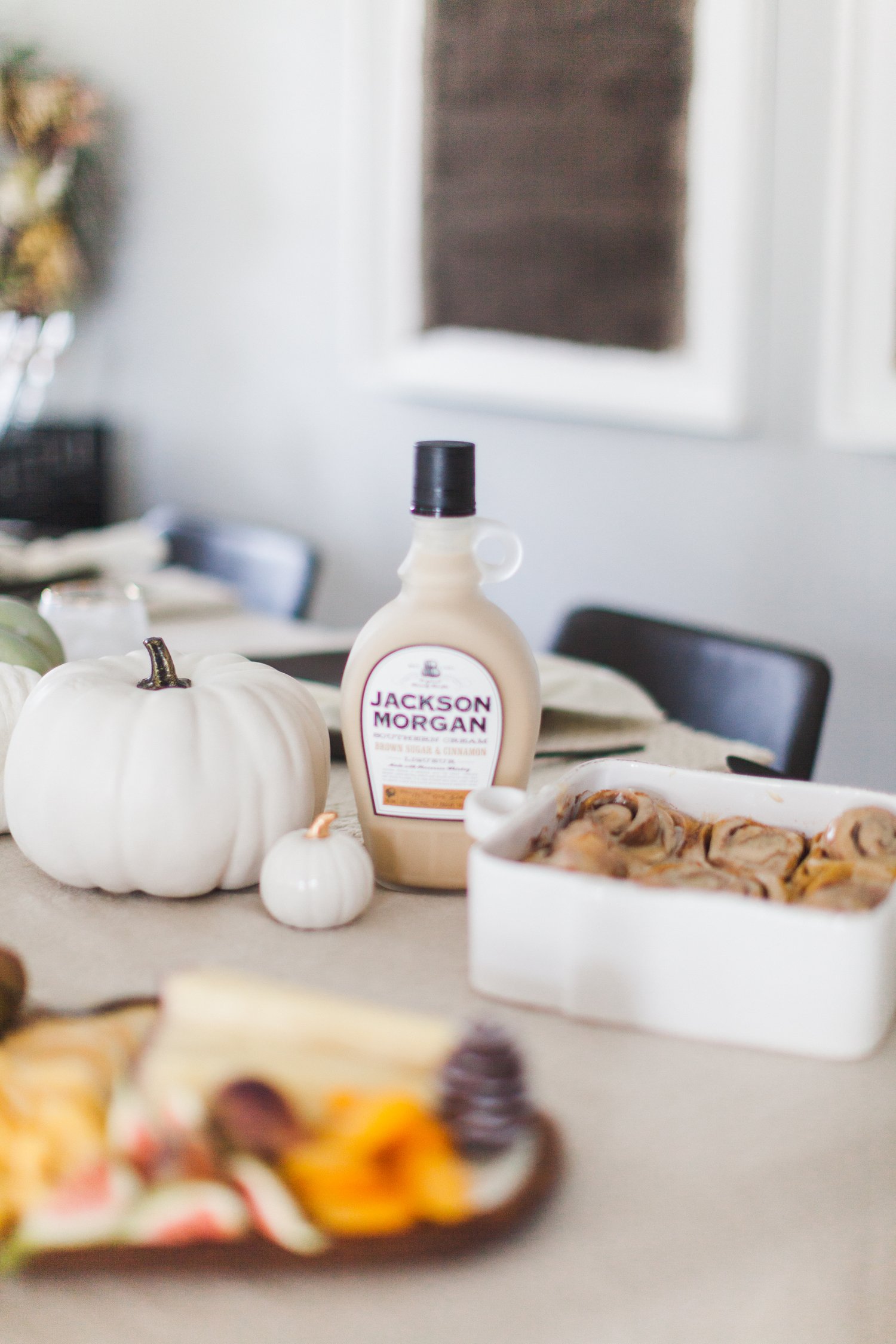 Whether store-bought or home-baked, fall-flavored pumpkin cinnamon rolls only get better when basted with a boozy brown sugar and cinnamon glaze. The enticing inclusion of Jackson Morgan Southern Cream infused into this gooey glaze gives these seasonal sweet rolls a boozy boost, an upgrade guests are sure to seek seconds of.
Ingredients:
Cinnamon Rolls:
½ Cup Whole Milk, warmed
¼ Cup Granulated Sugar
1 (1/4 Teaspoon) Package of Yeast, we prefer Red Star Platinum Yeast
¼ Cup Jackson Morgan Southern Cream in Brown Sugar and Cinnamon
¾ Cup Canned Pumpkin Puree
½ Stick Salted Butter, Melted
1 Teaspoon Vanilla Extract
1 Large Egg
4 Cups Bread Flour
2 Tablespoons of Pumpkin Pie Spice
½ Teaspoon Salt
Filling:
2/3 Cup Brown Sugar
¼ Cup Granulated Sugar
1/2 Tablespoon of Cinnamon
1 Stick of Butter, Room Temperature
Brown Sugar Icing:
1 Cup Powdered Sugar
2-4 Tablespoons Jackson Morgan Southern Cream in Brown Sugar and Cinnamon
Directions:
First, make the cinnamon roll dough. Whisk the yeast and granulated sugar with the warm milk in the bottom of a stand mixer bowl fitted with a flat beater. Cover with a dishtowel and allow the yeast to process for 5 minutes. Next, add in the Jackson Morgan Southern Cream, pumpkin puree, melted butter, vanilla extract, and egg. Mix on medium-low speed with a stand mixer until combined. In a separate bowl, mix the flour, pumpkin pie spice, and salt together. Then add half of the flour mixture to the stand mixer and combine on medium speed. Add in the rest of the flour mixture until the dough springs back when touched. Next, switch the flat beater with a dough hook and knead the dough for 4 minutes. You can also knead by hand if you prefer on a floured surface. Lightly flour a work surface, and mold dough into a ball. Place dough ball in a greased bowl and cover with plastic wrap and let rise for 1-2 hours in a warm place until doubled in size.
While the dough is rising, mix together the filling ingredients combine the brown sugar, granulated sugar, and cinnamon in a small bowl, set aside. After rising, roll the dough on a floured surface into a large rectangle. Spread the room temperature butter on the rectangle shaped dough and sprinkle with the cinnamon-sugar filling mixture. Roll the dough up tightly and place seam side down and cut into 12 pieces. I used unflavored dental floss to cut the rolls evenly or you can use a sharp knife. Spray a 9×13 inch baking dish with cooking spray and arrange the cinnamon rolls in the pan so that they are touching. Cover and allow to rise for 30 minutes to an hour in a warm place.
After rising, remove the plastic wrap and bake at 375 degrees for 20-25 minutes. Keep an eye on your rolls, if they start to brown cover with foil. Allow to cool for 15 minutes before icing.
Finally, make the icing. Mix together the powdered sugar with Jackson Morgan Southern Cream in brown sugar until the right icing consistency is achieved. You may need to add more powdered sugar or Jackson Morgan if the icing is too thick or thin. Ice the cinnamon rolls and serve warm. Enjoy!