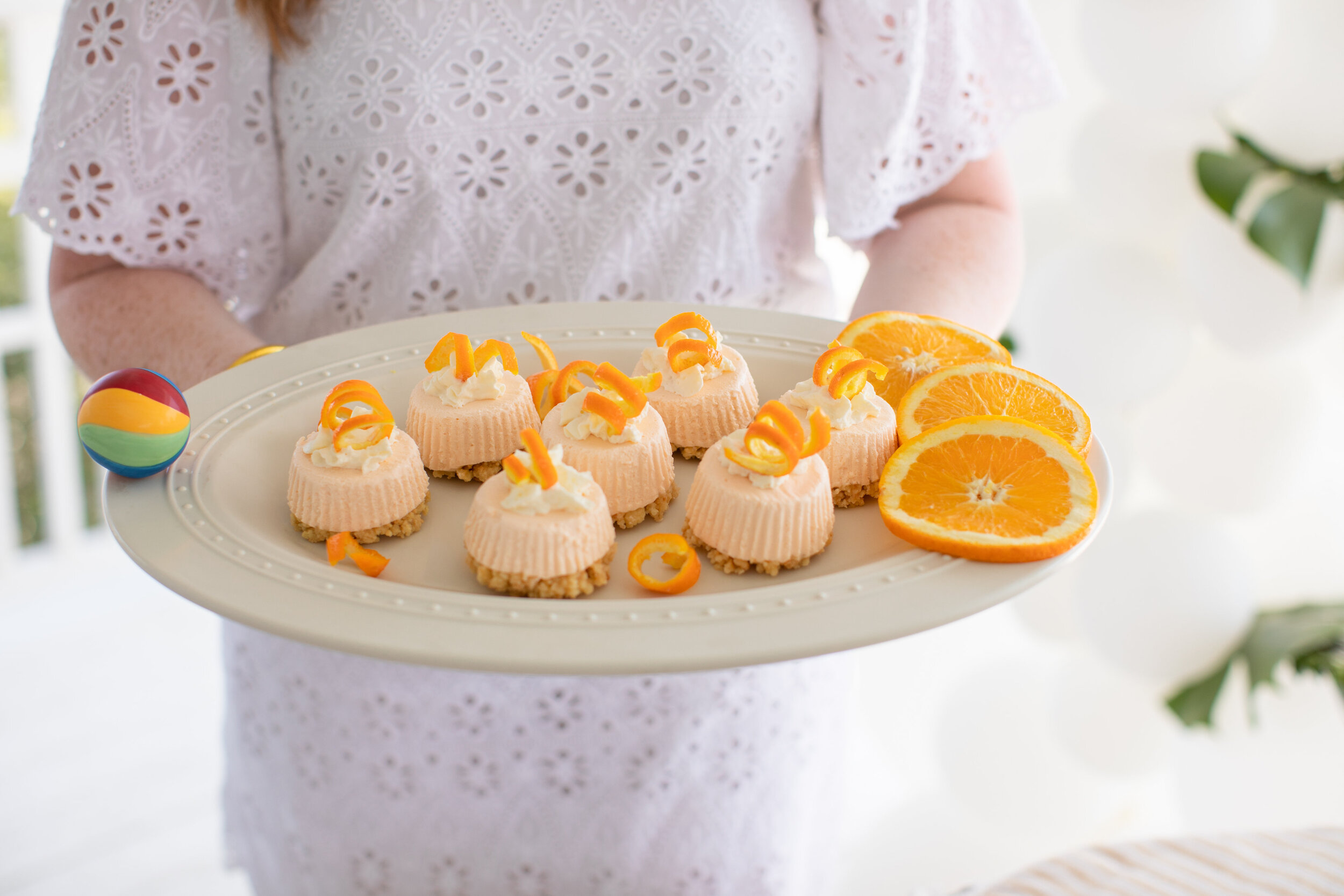 The only thing that could make a beach day better is a cool tasty treat. Escape from the heat to indulge for a moment with mini orange creamsicle bites made with Jackson Morgan Southern Cream. These boozy bites are palette perfection when taking a break from the beach, pool, lake, or whatever local oasis you dip your toes in.
Ingredients:
15-20 Vanilla Crème Sandwich Cookies
4 Tablespoons Butter, Melted
8 Ounces Cream Cheese, room temperature
8 Ounces Whipped Topping
1 Can Sweetened Condensed Milk
½ Cup Orange Juice
½ Cup Jackson Morgan Southern Cream in Whipped Orange
1 Teaspoon Vanilla Extract
Whipped Cream, garnish
Orange Peel Twist, garnish
Directions:
In a food processor, pulse the cookies until they are crumbled. Then add in the melted butter until the mixture is finely crumbled. Set aside.
In a stand mixer fitted with a flat beater on medium speed, cream the cream cheese until soft then add in the sweetened condensed milk. Next add in the Jackson Morgan Southern Cream in whipped orange. Lastly add in the orange juice and vanilla until combined. Remove bowl from the mixer and fold in the whipped topping. Be careful to not overmix. Add this mixture to a piping bag fitted with a large tip.
In a muffin tin lined with cupcake liners, divide the orange creamsicle mixture along the bottom of each cup leaving room for the crust on top. Top with a few tablespoons of the cookie mixture. Use the back of a spoon to flatten the cookie mixture, you may need to wet the spoon with water to help spread the mixture evenly.
After filling all the cupcake liners, bang the pan a few times on the counter to remove any air bubbles. Then freeze overnight to allow the pies to set. Once set, remove the cupcake liner and plate with the cookie crust on the bottom. Garnish with whipped cream and an orange twist. Enjoy immediately.