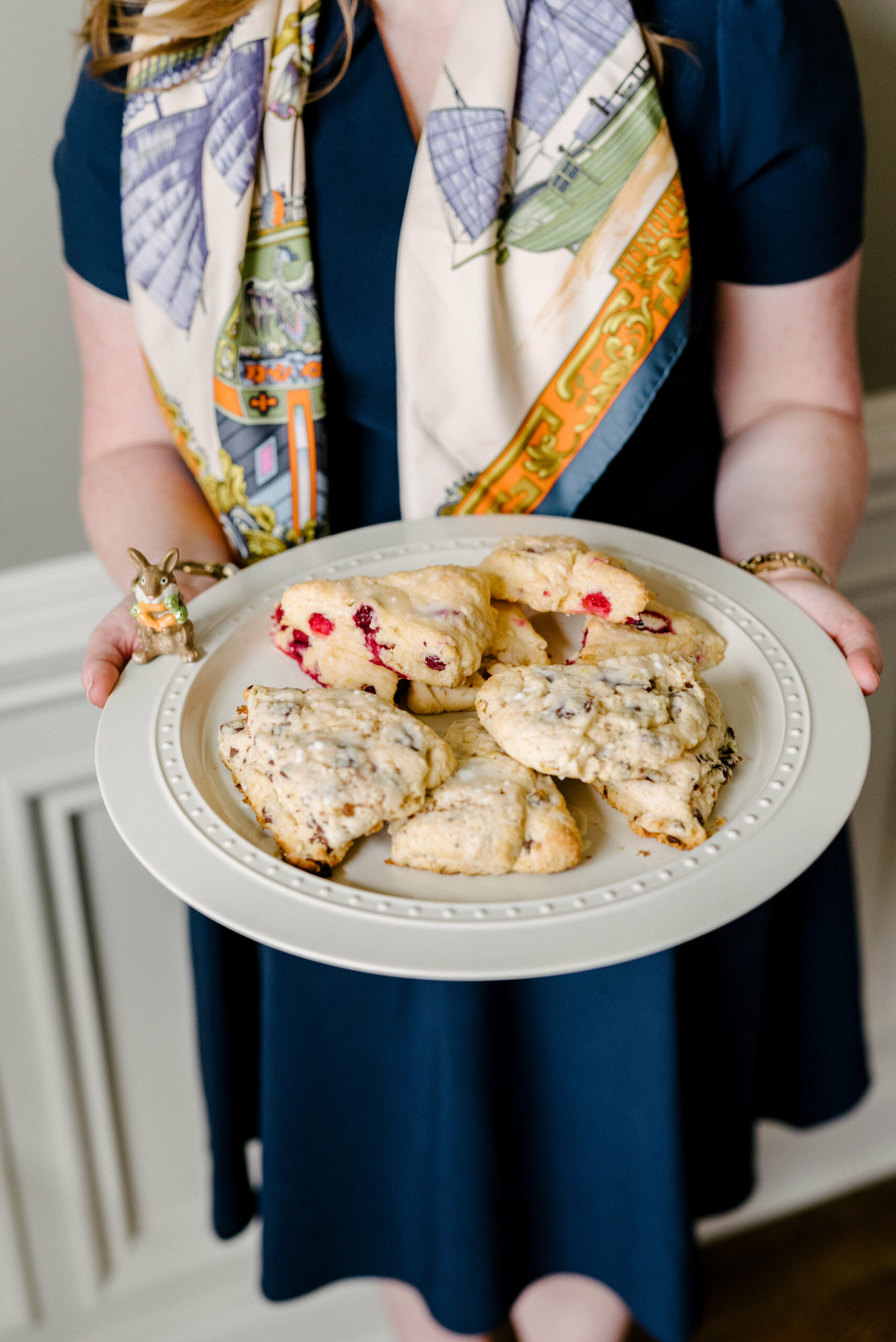 Chocolate and orange are such delicious flavors when combined. For our spring brunch, I served boozy orange chocolate scones. You can also substitute cranberries for chocolate if you prefer a fruity scone. These decadent scones served with a glass of Jackson Morgan Southern Cream in whipped orange is a tasty happy hour treat.
Ingredients:
2 Cups All Purpose Flour
3 Tablespoons Granulated Sugar, additional 1 Tablespoon for Sprinkling
1 Tablespoon Baking Powder
1/4 Teaspoon Salt
5 Tablespoons Salted Butter, Frozen
3/4 Cup Chocolate Chunks
Zest of 1 Orange
3/4 Cup Heavy Cream, plus 2 Tablespoons for Brushing
1/4 Cup Jackson Morgan Southern Cream in whipped orange
1 Cup Powdered Sugar
2 Tablespoons Orange Juice
Directions:
Preheat the oven to 425 degrees. In a large bowl, mix together dry ingredients (Flour, Baking Powder, and Salt) excluding the extra sugar for sprinkling. Using a cheese grater, grate the frozen butter. Slowly mix in the grated frozen butter into the bowl with the dry ingredients If you prefer, you can use a pastry cutter with cold butter instead of frozen. Add in the chocolate chunks and orange zest.
Next, add the heavy cream (excluding the 2 tablespoons for brushing) and Jackson Morgan Southern Cream to the mixture. Stir slowly and be careful not to over mix. After combined, place dough on a floured pastry mat. Knead a few times with floured hands until a dough ball forms. Next, using hands form into an 8-inch circle. Cut pie shaped triangles out of the circle.
Place triangles on a baking sheet lined with parchment paper. Put pan with scones in the freezer for 30 minutes to allow the scones to rest before baking. After 30 minutes, remove from freezer, using a pastry brush, brush the scones with heavy cream and sprinkle with course sugar. Bake for 12 minutes or until golden.
While waiting for the scones to cool, make the glaze. Combine powdered sugar and orange juice until you have a thick glaze, if not thick enough you can add more sugar. Once scones are cooled, drizzle glaze on top of the scones and enjoy!
Cheers!
Recipe Slightly Adapted from Elisabeth and Butter. Christy Wilson Photography.
Salted Caramel
Whipped Orange Cream