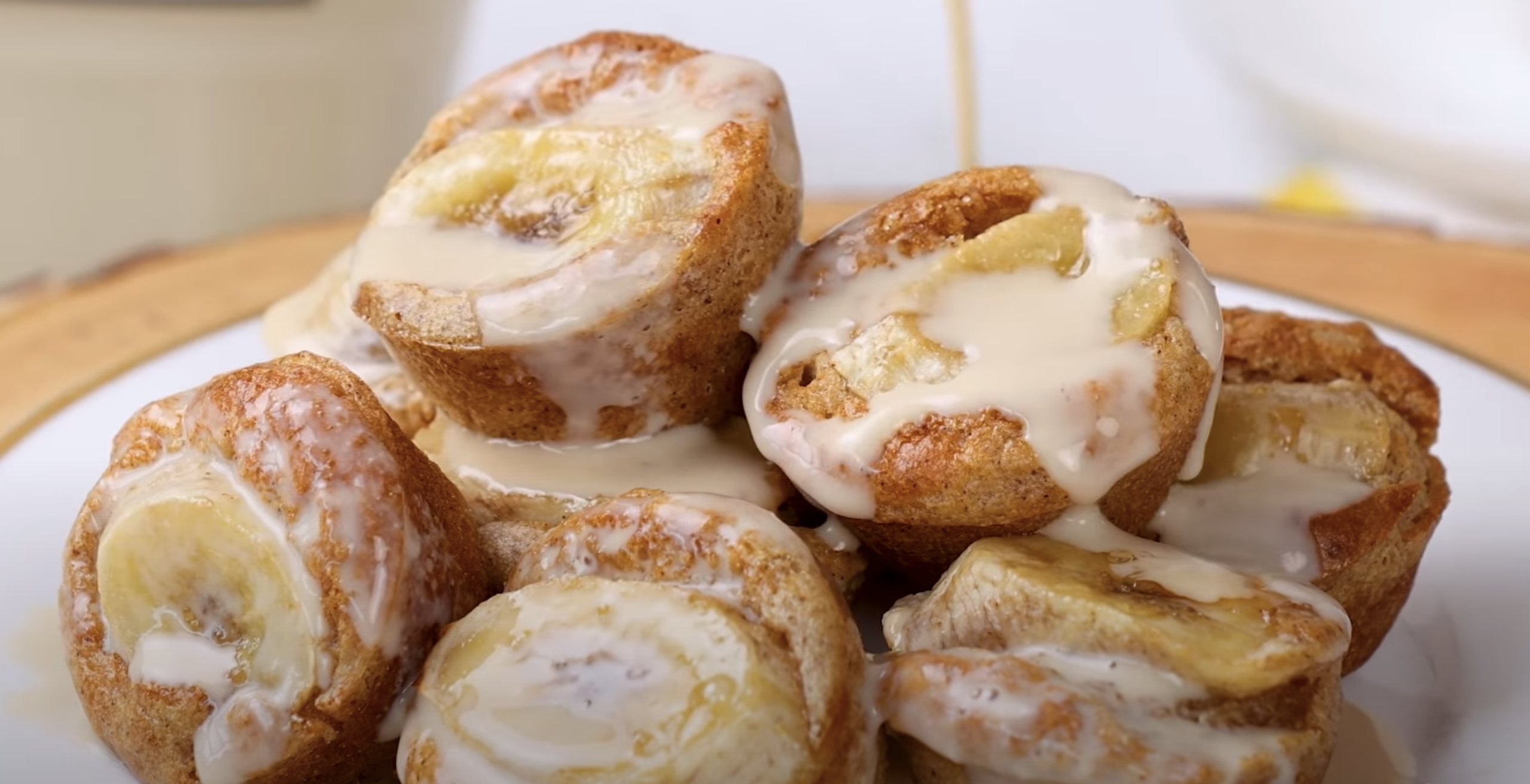 Brunch will never be the same once your bunch experiences these boozy breakfast bites. The best of everything a beautiful morning has to offer all baked to boozy banana pancake perfection. Call it southern service with a smile when you hightail these hot cakes from the over to the table.
Prep time: 15 minutes
Cook time: 15 minutes
Ready in: 30 minutes
Serves: 4
Ingredients
For pancake bites
2 tablespoons unsalted butter, melted
2 eggs, separated
1 cup all-purpose flour
1 teaspoon baking soda
1/2 teaspoon baking powder
1/2 teaspoon salt
1/2 teaspoon cinnamon
3/4 cup whole milk
1/4 cup Jackson Morgan Southern Cream in Banana Pudding
2 large bananas, peeled and sliced
2 tablespoons brown sugar
For Boozy Banana Cream Maple Syrup
1/2 cup heavy cream
1/4 cup Jackson Morgan Southern Cream in Banana Pudding
2 tablespoons brown sugar
Pinch of salt
Directions
1. Preheat oven to 425°F. Brush a mini-muffin tin generously with melted butter and place in
oven.
2. Using a hand mixer, beat the egg whites in a medium bowl until light and fluffy. Set aside.
3. In a large bowl, whisk together flour, baking soda, baking powder, salt, and cinnamon.
Combine egg yolks, milk, and Banana Pudding liqueur and add to flour mixture. Stir to
combine, then gently fold in egg whites until no streaks remain.
4. Fill preheated mini muffin tin 2/3-full with batter. Top each with a banana slice and
sprinkle with brown sugar. Bake for 10 to 12 minutes, or until golden-brown.
5. To make syrup, combine heavy cream, Banana Pudding liqueur, brown sugar, and salt in a
small saucepan over medium heat. Simmer for 5 minutes.
6. Serve pancake bites with warm boozy banana pudding syrup.