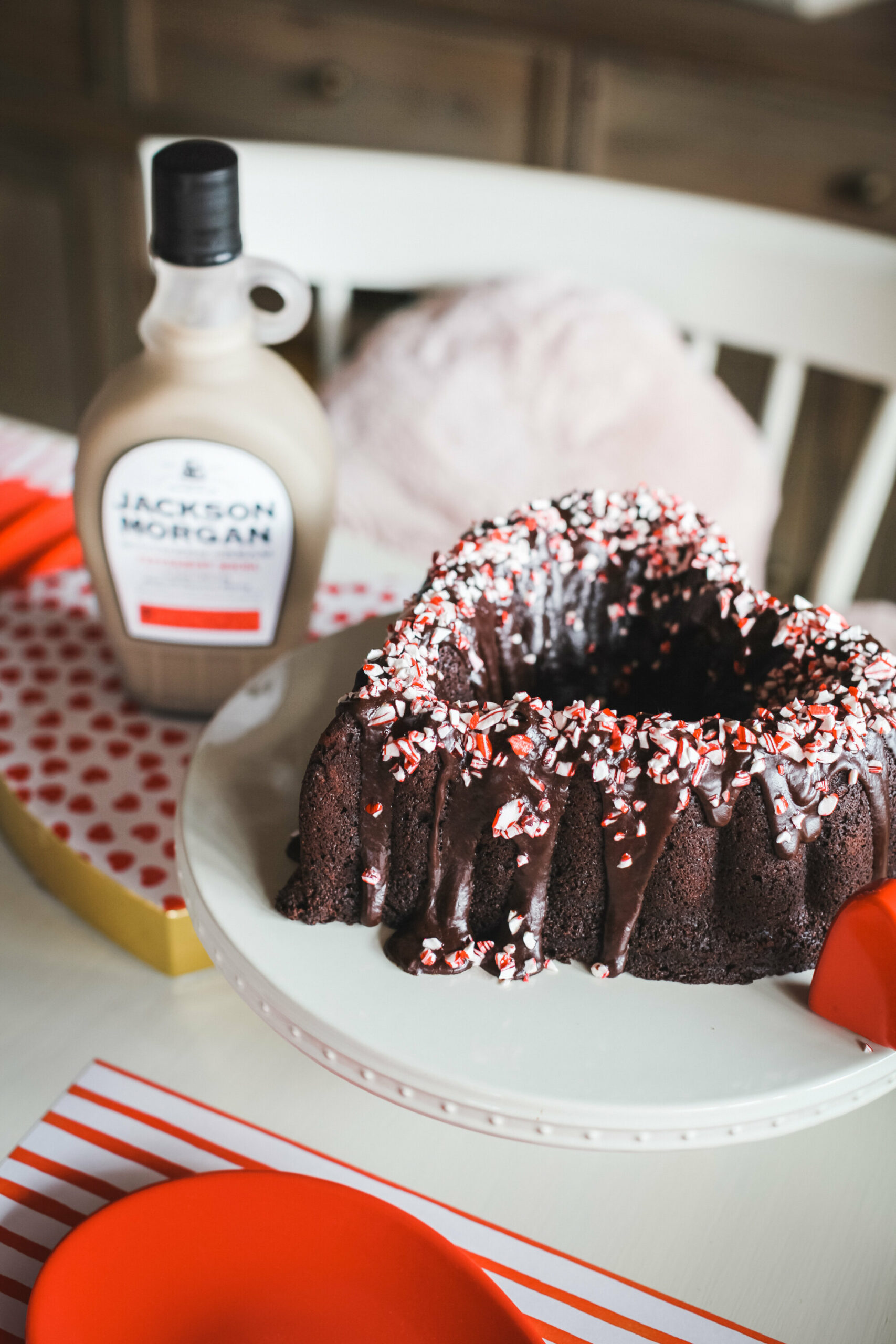 Hearts will go pitter-patter over this Jackson Morgan Southern Cream peppermint mocha delicious dessert. Break out this boozy bundt cake topped with chocolate ganache icing after the main course to really turn up their tastebuds. Be a sweetheart and share with your friends, or be sly and make a second to keep just for yourself!
Ingredients
Cake:
1 Cup Cold Brew Coffee
1 Cup Butter, Unsalted at Room Tempature
3/4 Cup Unsweetened Cocoa Powder
2 Cups Granulated Sugar
3/4 Teaspoon Baking Powder
1/4 Teaspoon Baking Soda
1/2 Teaspoon Salt
2 Cups Flour, All Purpose
2 Teaspoons Vanilla Extract
2 Eggs, Room Temperature
1/2 Cup Greek Yogurt, Room Temperature
Boozy Peppermint Ganache Icing:
4 Ounces Finely Chopped Semisweet Chocolate
2 Teaspoons Corn Syrup
1/4 Cup Heavy Whipping Cream
1/4 Cup Jackson Morgan Southern Cream in Peppermint Mocha
1/4 Teaspoon Peppermint Extract
Crushed Candy Canes, Garnish
Directions:
Preheat the oven to 350 degrees. Grease a bundt cake pan well and dust with cocoa powder, then set aside.
Add cold brew coffee, cocoa powder, and butter to a small saucepan and continuously stir over medium heat until butter melts. Place mixture in the fridge to chill for 5-10 minutes while preparing the remaining ingredients. Next, whisk together dry ingredients (sugar, baking powder, baking soda, salt, and flour). Then, combine the cooled chocolate mixture to the dry ingredients and stir until well blended. In a different bowl, whisk the wet ingredients (vanilla, egg, and yogurt). After thoroughly combined, mix with the chocolate batter and stir well.
Pour the chocolate batter into a greased and powdered bundt pan. Bake for 45-55 minutes or until a toothpick comes out clean. While the cake cools for 5 minutes, make the boozy ganache icing.
In a small saucepan, stir heavy cream, Jackson Morgan Southern Cream, and corn syrup. Heat over medium heat until the mixtures begins to boil, stirring constantly. Remove the saucepan from the heat and add in the chopped chocolate and peppermint extract. Stir until the chocolate melts and is well incorporated. Allow to cool for 5 minutes before icing the cake. Gently spoon the ganache over the cake then top with crushed candy canes. Enjoy.