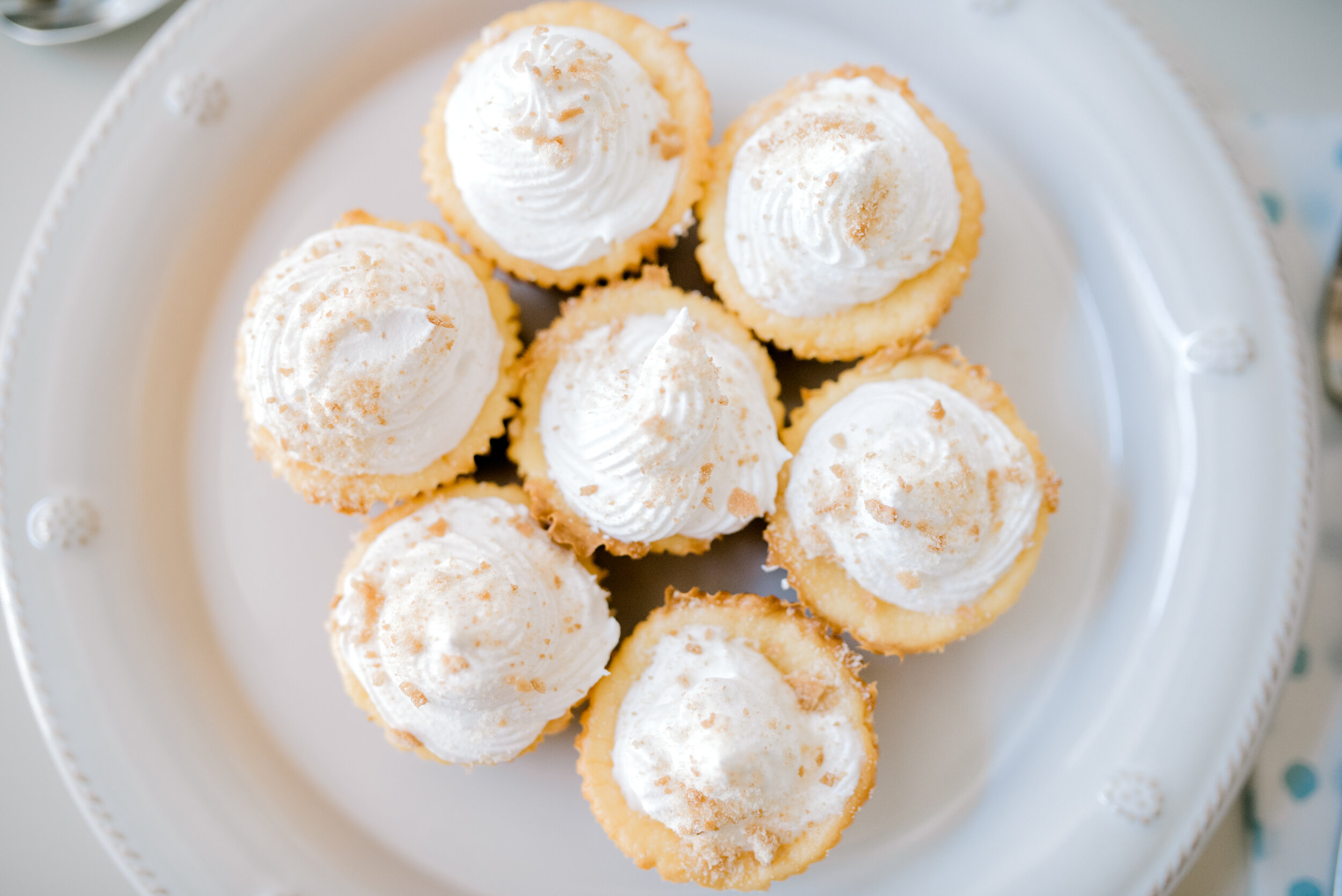 In the unwritten rulebook of party requirements, the expectation of drinks and dessert is an understood expectation among good-time gathering enthusiasts. How a host prepares to meet those expectations is open to personal interpretation. Naturally, our family opts to take creative routes to include swigs and splashes of Jackson Morgan Southern Cream into the libations and last courses we serve at our soirees. This Spring Blue and Peach party is no different, and these mini boozy banana cheesecakes will definitely not disappoint. This quick and simple recipe can easily be whipped up prior to guests' arrival. The presentation of these petite cakes alone is enough to tease the palate! Have recipe cards ready to distribute as guests are guaranteed to request the details on this delicious dessert.
Ingredients:
1 ½ Cup Vanilla Wafer Cookies, crumbled
3 Tablespoons Granulated Sugar
4 Tablespoons Unsalted Butter, melted
16 oz Cream Cheese, room temperature
2 Eggs, room temperature
¼ Cup Jackson Morgan Southern Cream in banana pudding
1 Box Instant Banana Pudding Mix
Whipped Topping, garnish
4 Tablespoons crumbled Vanilla Wafers, garnish
Directions:
Line a 12 cupcake pan with cupcake liners. Preheat the oven to 325 degrees. Place the vanilla wafers in a plastic bag and use a rolling pin to crush the cookies until finely crumbled. In a bowl, combine the sugar and crumbled cookies. Then add in the melted butter, mix well. Divide 1 tablespoon of the cookie mixture among each of the cupcake cups, smooth with the back of spoon creating a crust. Bake the crust for 5-7 minutes and allow to cool completely.
While waiting for the crusts to cool, make the cheesecake filling. Reduce heat on the oven to 300 degrees. In a stand mixer fitted with a paddle attachment, mix the cream cheese and Jackson Morgan Southern Cream together over medium speed until smooth. Then add in the eggs one at a time, scrape down the bowl after each egg is added. Finally, add the banana pudding mix. Mix well, the mixture will be thick.
Add banana cheesecake filling to a piping bag and pipe equal amounts into each cupcake cup two thirds full of the way over the baked and cooled crust. Wet the back of a spoon to help spread the filling. Bake for 40-45 minutes until cheesecakes are firm. Allow to cool in a turned-off oven for 10 minutes. Do not open the oven door to prevent cracking of the cheesecakes. Remove from oven and allow to cool in pan. Then refrigerate for 1-2 hours before serving. When ready to serve, top with whipped topping (I used a piping bag) and crumbled vanilla wafers. Cheers!