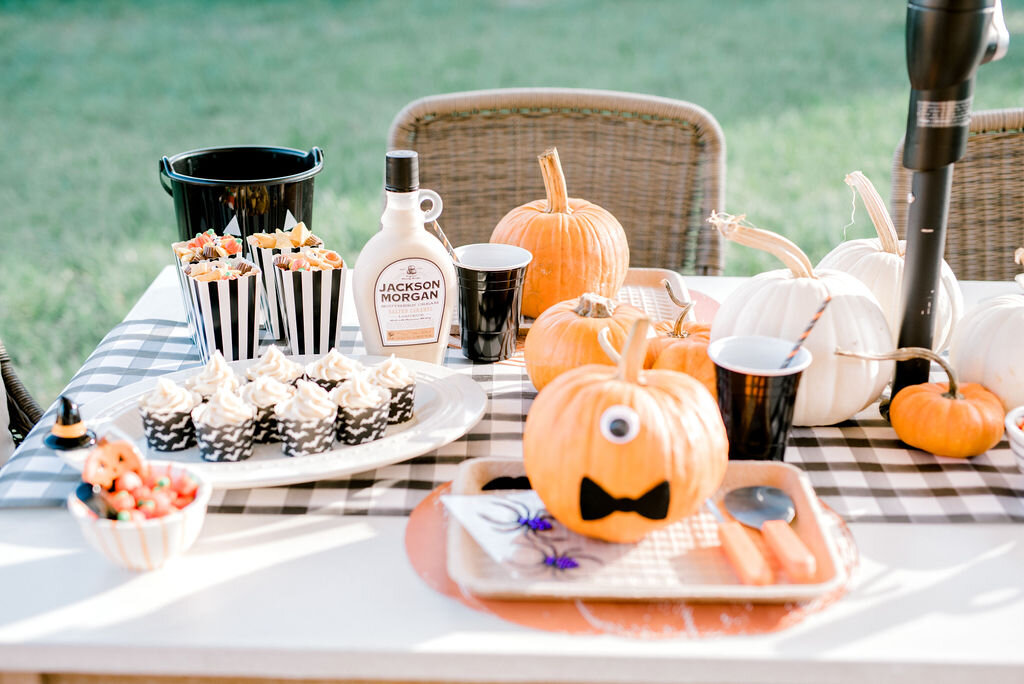 Get creative in the kitchen with this custom cupcake recipe that pairs perfectly with a pumpkin carving party. For these sweet treats, the Jackson Morgan booze is baked right into both the cake and the icing. Family and friends will totally fall for these fun festive boozy brown sugar cupcakes.
Ingredients:
Cupcakes
1 ½ Cup All-Purpose Flour
1 Teaspoon Baking Powder
1 Teaspoon Cinnamon
½ Teaspoon Salt
½ Cup Unsalted Butter, Melted
1 Cup Granulated Sugar
4 Large Eggs, Room Temperature
1 Teaspoon Vanilla Extract
½ Cup Buttermilk, Room Temperature
¼ Cup Jackson Morgan Southern Cream in Brown Sugar and Cinnamon
Icing
8 Ounces Cream Cheese, Softened
½ Cup Butter, Softened
½ Teaspoon Cinnamon
3 ½ – 4 Cups Powdered Sugar
½ Teaspoon Vanilla Extract
1-2 Tablespoons Jackson Morgan Southern Cream in Brown Sugar and Cinnamon
Directions:
To make the cupcakes, preheat the oven to 350 degrees. Line a muffin tin with cupcake liners, I chose to use Halloween themed liners. In a medium size bowl mix together the flour, baking powder, cinnamon, and salt until combined.
In a stand mixer set to medium speed fitted with a flat beater, blend the butter and sugar until combined. Then add the eggs one at a time, then the vanilla. Next, add half the flour, then half the buttermilk. Then add the rest of the flour then the remaining buttermilk until batter is well mixed. Be careful not over mix.
Add batter to cupcake liners, I used a piping bag to equally distribute the batter until each of the liners is ¾ full. Bake for 15-20 minutes until a toothpick comes out clean. Allow to cool before frosting.
Next make the frosting, in a stand mixer fitted with the flat beater attachment on medium speed, mix the cream cheese and butter until well combined. Next, add the vanilla and cinnamon. Then at low speed add the powdered sugar one cup at a time, until you have a thick icing. You may need more powdered sugar or less depending on your batch. Lastly, add 1-2 Tablespoons of Jackson Morgan Southern Cream in brown sugar and cinnamon to make the icing boozy.
Allow your cupcakes to completely cool. Using a piping bag, ice the cupcakes with your desired design. Enjoy!
All images Julie Hall Photography for Jackson Morgan Southern Cream.